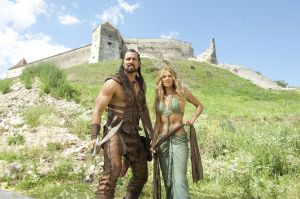 El gran rey Escorpión y un rival desleal corren contra el tiempo para encontrar un tesoro que tiene el poder el dominar el mundo en The Scorpion King 4: Quest for Power, que Universal Pictures Home Entertainment presentará en formato Digital HD el 6 de enero de 2015 y en DVD y Blu-ray™ Combo Pack, que incluye el Blu-ray™, el DVD y la copia Digital HD con Ultraviolet™ el 20 de enero de 2015. 
The Scorpion King 4: Quest for Power es el siguiente capítulo de la franquicia de The Mummy que ha recaudado miles de millones de dólares en las taquillas. Con un reconocido reparto de veteranos e iconos del mundo de las artes marciales y la lucha profesional, los espectadores encontrarán toda la intriga y la acción que buscan en la película. 
Victor Webster (The Scorpion King: The Battle for Redemption) protagoniza la película en el papel del heroico guerrero Mathayus y lo acompañan Lou Ferrigno ("The Incredible Hulk"), Ellen Holman ("Spartacus"), Barry Bostwick ("Cougar Town"), Michael Biehn (The Terminator) y Rutger Hauer ("True Blood", Blade Runner). También participan el ganador de "The Ultimate Fighter" Roy "Big Country" Nelson, el campeón mundial de Cage Rage Antonio "Big Foot" Silva, el 11 veces campeón mundial de kickboxing Don "The Dragon" Wilson, la campeona de la WWE Divas en tres ocasiones Eve Torres y el integrante del salón de la fama del UFC Royce Gracie.
En The Scorpion King 4: Quest for Power, Mathayus se embarca en la aventura más peligrosa que haya emprendido hasta el momento. Cuando es traicionado por un amigo en quien confiaba, Mathayus deberá recurrir a toda su fuerza y astucia para superar a un oponente formidable que no se detendrá hasta desatar un antiguo poder supremo. 
Foto: Universal Pictures Home Entertainment
---
---
---
Deja tu comentario