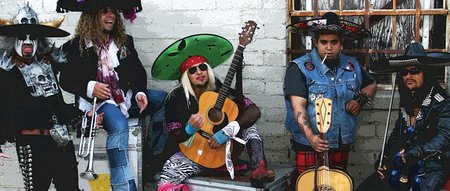 El nuevo heavy metal tiene sombreros de charro y carece de baterías y guitarras eléctricas: bienvenidos al mundo de Metalachi. En los conciertos del quinteto mexicano el solo de guitarra de Sweet Child O'Mine se transforma en una descarga de trompeta y los acordes de Master of Puppets van acompañados de guitarrón y violín.
Los integrantes de Metalachi se han hecho famosos en la costa oeste de Estados Unidos con versiones de éxitos del heavy metal "rancherizados". Su álbum debut Uno de 2012 incluye piezas de Led Zeppelin, Iron Maiden, Guns N' Roses y hasta una versión cumbia de Man in the Box, de Alice in Chains con los instrumentos tradicionales del mariachi. El disco es el primer registro de los increíbles conciertos de la banda.
Los componentes de la banda afirman ser unos hermanos de Ciudad Juárez, Chihuahua, que se mudaron a Los Ángeles en 1988, donde comenzaron a tocar en orquestas de mariachi en el Este de la ciudad y el Valle de San Fernando. Actualmente están en una extensa gira por Estados Unidos que terminará en julio.
Foto: Metalachi.com
---
---
---
Deja tu comentario