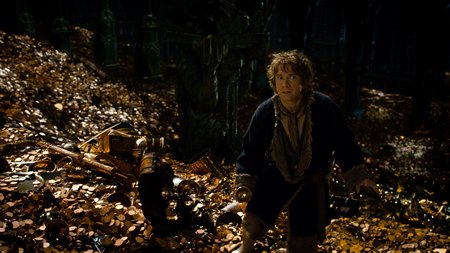 The Hobbit: The Desolation of Smaug ha logrado por segunda semana consecutiva copar las salas de cine de Estados Unidos y recaudar 31,5 millones de dólares este fin de semana.
La película de Peter Jackson superó a otra secuela, la comedia Anchorman 2: The Legend Continues, de acuerdo con cálculos de los estudios difundidos el domingo. La secuela de la comedia protagonizada por Will Ferrell logró 26,8 millones de dólares de viernes a domingo, y 40 millones desde su estreno el martes. Aunque The Desolation of Smaug no tiene la fuerza de la primera película del Hobbit, An Unexpected Journey, la secuela ha tenido buena aceptación fuera de Estados Unidos ya que desde su estreno ha acumulado una taquilla de más de 400 millones de dólares en todo el mundo.
American Hustle, del director David O. Russell, captó 19,1 millones de dólares en su primera semana de exhibición, y Saving Mr. Banks -una cinta con Emma Thompson y Tom Hanks que narra la realización de Mary Poppins por parte de Walt Disney- ganó 9,3 millones.
Foto: Warner Bros.
---
---
---
Deja tu comentario