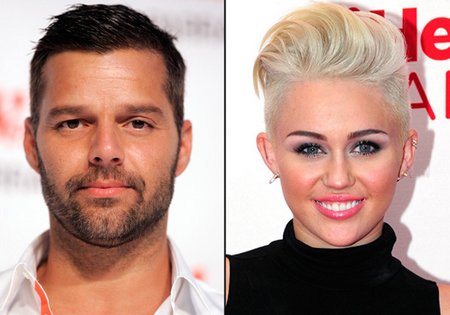 La lista de artistas que actuarán en los Billboard Music Awards 2014 sigue creciendo. Los últimos en confirmar su asistencia han sido Ricky Martin y Miley Cyrus. El puertorriqueño no es nuevo en estos premios. En años anteriores, la súper estrella de pop latino ganó premios en categorías como Top New Latin Artist en 1993, Hot 100 Singles Artist of the Year – Male, and Male Artist of the Year en 1999.
Por su parte, Miley Cyrus es una de las artistas que más ha dado de qué hablar durante este año y que además, está nominada en 8 categorías: Top Artist, Top Female Artist, Top Hot 100 Artist, Top Digital Songs Artist, Top Social Artist, Top Streaming Artist, Top Hot 100 Song y Top Streaming Song.
Estos artistas agrandan la lista de intérpretes entre los que se encuentran 5 Seconds of Summer, Florida Georgia Line, Imagine Dragons, Jason Derulo, Jennifer Lopez, John Legend, Luke Bryan, OneRepublic y Pitbull. La gala se celebrará el próximo domingo 18 de mayo desde el MGM Grand Garden Arena de Las Vegas.
---
---
---
Deja tu comentario