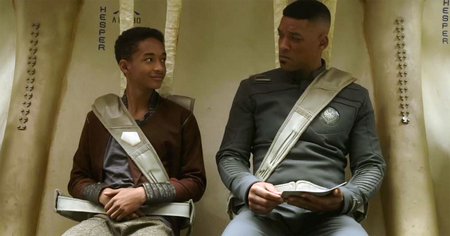 Will Smith y su hijo Jaden han acaparado este fin de semana el mayor número de premios Razzie, los denominados "anti-Oscar". Junto a la colección de cortometrajes que dan forma al largometraje Movie 43, los Smith ganaron en las categorías de peor actor secundario para Will y peor actor protagonista para Jaden Smith por sus papeles en la aventura de ciencia ficción After Earth. Además, su trabajo conjunto les valió además el galardón de peor actuación combinada del año.
Movie 43 se impuso como peor película de 2013 al resto de nominadas After Earth, Grown Ups 2, The Lone Ranger y A Madea Christmas, y también se alzó con los títulos de peor guión y peor dirección, ambos concedidos a la colaboración de múltiples artistas que elaboraron el filme.
El polifacético director, productor, actor y guionista Tyler Perry fue nombrado peor actriz principal de 2013 por su papel de mujer en la comedia A Madea Christmas y la popular Kim Kardashian fue señalada como la peor actriz secundaria debido a su interpretación en el filme de Tyler Perry Temptation. El regreso a la gran pantalla del icónico The Lone Ranger fue reconocido con el Razzie de peor remake o secuela.
---
---
---
Deja tu comentario